About Cartridge Monkey
Cartridge Monkey sell you a comprehensive selection of ink cartridges and toner for all printer makes including Brother, Canon, Epson, HP, and Lexmark. They stock original and compatible cartridges and toner so you can be sure to find a printer product to meet your budget and needs.
Cartridgemonkey.com Review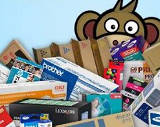 Finding ink cartridges doesn't mean writing down a long list of numbers and comparing them between stores. Cartridge Monkey helps you save, and the site is one of the easiest to use. There's no need to know exactly which type of ink you need, meaning you can shop from anywhere. There are dropdown menus to help you search for the right ink. All you need to know is the brand, make, and model of your printer to narrow down your choices.
At the top, you can search specifically if you need or you can go through step by step with the main menu. So there is a search method for everyone. Just below the menu, there's even a section that tells you how soon you will get the ink. And one of the great things about it is that superfast delivery is completely free! This is all made clear from the homepage, meaning you just have to compare the prices of branded and non-branded ink options available.
If you buy in bulk, you can even save money—and we all know that ink never goes off! It's better to have extra. This is one of the quickest and easiest websites to use when it comes to finding printer ink.