About EE Mobile
EE Mobile offers a full range of mobiles from all the top brands such as Samsung, Blackberry and iPhone on pay as you go and contract at low prices. There are regular promotional deals available on a range of minute, text and web options to suit all users. Get flexible delivery direct to your door or pick up from a local orange store of your choice for extra convenience. There's also a choice of mobile broadband and home broadband for internet on the move or low cost home use at the very best prices.
ee.co.uk Review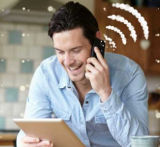 I'm hitting this EE Mobile review right over the festive season so hopefully not too much will have changed from the usual layout. To be honest the colouring seems the same as I remember; only the header decoration seems to have changed.
Some of the most important features seem to be where they need to be at the top of the page. These include a coverage checker to make sure you will be well connected and a store locator. Next to that there is a link to the contact details page. The contact page isn't that too easy to follow at first with lots of options to choose from before finding the right details. I suppose with lots of products they are just trying to get customers the right information.
The other links are to the shop, my EE for existing customers and help pages. Moving to the shop there are lots of images promoting the latest phones and offers. Other products include home broadband, sim only, pay monthly and pay as you go options.
The product detail page has tons of options and extras which can prove daunting for the inexperienced mobile shopper, although most options can be skipped passed to get to the purchase screen. Voucher codes can be added here before moving to the delivery option page.
Delivery is a straight forward home or store deliveries, all free without a minimum spend. Payment is varied depending on the product, either credit/debit card or direct debit for monthly contracts. You can also keep in touch via social media or EE Community pages.