isabellaoliver.com Review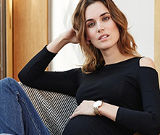 Isabella Oliver has a range of clothing for women, and makes that clear from the first glance of the website. It's a clear site, using images to show customers where to go for specific items. The menu bar is still conveniently placed and easy to use.
At the very top of the site, there is a range of links and information. All of this is extremely important but the black can be difficult to see on the darker grey banner. A great element to the banner that has the contact number is the ability to switch companies for shipping. It's clear from the start if it's possible to ship to a specific country.
As you work your way through the website, you'll see a point about free deliveries in the UK. It isn't exactly clear just how much it will be for international shipping. Standard delivery is free on orders subject to a minimum spend. You can also get free next day shipping but you will have to spend a little more for the privilege. There is also a magazine section. This seems to be more prominent than the clothing, as it takes up two levels on the homepage.
While contacting the company and signing up to the social media channels are easy, it's not very clear why someone should sign up to the newsletter. There's no information about potential benefits.