tooled-up.com Review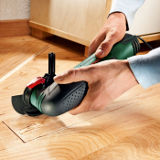 I have to admit that the Tooled Up website layout is a touch old fashioned but I guess for store selling tools to the DIY and Trade then it works just fine. One confusing thing is that there are 2 menus offering the same categories. The left hand visible menu has a list of product types as well as the left hand drop down menu. The top menu has a large search area seems to work very well and drills down as you type the search term. There's also a handy advanced search with fields for keywords, categories, manufacturer, price and availability.
The layout gets a little better further down the page with featured products and a clearance area. The help and customer service links area positioned right at the top of the page with a contact telephone number.  The full contact address is available on the footer menu.
The product page offers a full description with a download area for documents and instructions if available. The basket stage lists price and delivery cost but doesn't include a voucher code field. I can only assume that customers have to login before this is available, a bit annoying. Payment can be made using all major cards such as Visa, Visa Debit, Mastercard, and Maestro but there are no options for PayPal or other quick checkout methods.
All delivery is chargeable with some free delivery options depending on the product type and how much is spent. At the time of writing it looks like a minimum spend of £65. All in all it's a good, functional site does 'what is says on the tin' but could do with a modern makeover.