About Adidas
Get all the latest Adidas products from original styles to modern sports performance clothing direct from the shop.adidas.co.uk. Supplying excellent sportswear, fashion and accessories for over Seventy years the Adidas brand is worn and known across the world. The Adidas range has encompassed the very best in quality standards, technology and innovation for many years.
Adidas Delivery Guide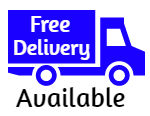 Adidas can offer 3 different types of delivery service at different costs depending on your order requirements and product types. Standard non-customised products are despatched using the standard delivery service is charged at £3.95 and is delivered in 3 business days from order for stocked products.
If you spend £50 or more the standard delivery service comes free of charge.
If you are ordering mi adidas customised products then delivery is free on a 4 to 6 week shipping service due to the customised nature of the product. Standard product personalisation takes from 1 to 2 days to process so you will have to add this time to the expected delivery time. You can use the standard service for the personalised  products and the free delivery service is included if you spend over £50.
Delivery Summary
Standard delivery is £3.95
Delivery is free on orders over £50
Delivery is free on adidas mi orders
International delivery available
For more information visit the adidas delivery page
adidas.co.uk/help/delivery