Recently Expired Bonusprint Vouchers & Deals
Bonusprint.co.uk Review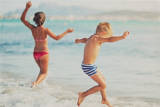 Bonusprint are an online producer of photo prints and photo gifts personalised for the customer using their own images. From the homepage there's navigation to all the product categories with the use of clickable images. The latest product offers are presented in the form of a featured banner with the main menu above. The main menu allows customers to navigate to the required products, offers and customer help page.
For the review process let's choose a personalised Acrylic. To proceed with the order process I've clicked the 'get started' button which brings me to the photo creation page. I pulled in a picture by dragging it from a local folder and it is immediately uploaded to the Bonusprint site. Here you can crop, rotate, filter and flip the image for the best results and look. The only disappointment is the inability to crop the image which would have been useful. I'll just have to be happy with a cut off head, in reality I would have cropped the image offline and then uploaded.
Hitting the continue button loads up a preview page where the frame colour can be selected if required. I've just gone with the plain canvas. The next stage takes users to the basket page where promotional codes can be entered. Other options include editing and delivery charge details. Unfortunately there are no free delivery options at the time of writing.
Payment can be made either through the PayPal service or by credit and debit card. All in all the ordering process was painless and easy even for the novice.