About British Corner Shop
British Corner Shop offers Great British products all available with worldwide delivery popular with British expats, armed forces or any UK citizen working abroad who still want to buy their favourite British food no matter where they might be. Find over 10,000 UK branded foods with regular discounts available and wholesale quantities for overseas businesses, regular buy one get one free offers, sales promotions and great value international delivery.
BritishCornerShop.co.uk Review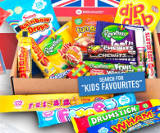 The British Corner Shop delivers British food worldwide for expats. They have a rewards club available with plenty of discounts on a daily basis. When you take a look at the home page for BritishCornerShop.co.uk, you'll find that they have several images that show the benefits of purchasing from their site and this includes secure payments as well. You will also see some of the brands that they have available and this is a great way to instantly find what you need. Of course, if you scroll down, you will also find that they have some deals available for that week and this changes every so often so you'll see new things here all the time.
Products
So with this site, we are going to start off on the bulk buy page to see what options are available. From this point, you will see the option to take a look at beverages, home baking, sweets, chocolate, condiments and crisps. Clicking on the beverages section, you will see the items that they have available and you'll get a small discount on these items as it is because you would be purchasing them in a bulk purchase. Under each item, you will see how many products are in that pack and you will also see the price of that item as well. Under the product, you will see the brand and how much it weighs in total, so it is really easy to find what you need if you know what you are looking for. At the top, you also have the option to use the search option to find what you need as well so again, this adds to the convenience.
Basket and Checkout
When you add an item to your basket, you will be asked to select your country so the site can calculate your postage costs. When you have done this, you will get what is called a bracket, and this is how much you can buy in terms of importing goods. On the right hand side, you will see how much postage you will need to pay as well so it is very clear, right from the start how much your order is going to cost and how much you can import at any one time. You'll then be taken to the checkout screen where you will need to enter all of your details and although you can't add a voucher code at this point but you can when you get to the payment screen.
Delivery and Returns
It isn't clear from the site whether or not the British Corner Shop offer returns however they do have plenty of delivery information. Some of the items that they send will have a short date icon next to the picture. This means that your item will need to be consumed within a short space of time so this is something that you need to be aware of. With The British Corner Shop, returns would also be slightly more difficult as it is an overseas provider. Even so, the customer service team would be more than happy to help you with this. When you do buy from British Corner Shop, you'll also find that they fully insure their deliveries and it is all tracked as well so you really don't have anything to worry about. If you want to optimise your shipping box in terms of postage, simply add more items until the blue bar gets to 100% as this is how full your box is. When the bar gets over this line, the company will pack your items into another box, to keep it under the weight limit.
Returns
Please do contact the British Corner Shop to enquire about your items as the policy may depend on the items that you purchase from the site and the expiry date that they have.
British Corner Shop on Social Media
Find British Corner Shop on Facebook and pick up exclusive voucher and deals, fantastic recipe and food ideas. You can also follow them if you're a Twitter fan and LinkedIn if you are a business looking for wholesale deals.