About Chocolate Trading Company
Buy a lovely luxury chocolates & gifts at The Chocolate Trading Company. Enjoy the taste of real, luxury chocolate from popular brands such as Michel Cluizel and Valrhona. The online store gives off an air of luxury and great taste with a showcase of leading products available for view on the homepage. Make big savings off the normal recommended prices using a discount code, free delivery code or coupon from deliverycode.co.uk. Finding the chocolates and gifts you need is easy using the category menu that includes a range of bake, make and decorate lines. There's an offer and gifts section plus a search facility to take you directly to the chocolate gifts with no hassle. Customers can choose from a collection of gift vouchers, personalized items and promotional offers to make extra savings and for buying an easy gift for a loved one or close friend.
Chocolatetradingco.com Review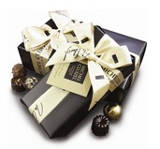 Chocolate is one of the perfect gifts for all. Whether it's for an anniversary, a birthday, or just to show someone you love them, Chocolate Trading Co. has something for all. The first look of the site makes it clear that there is something for everyone, with a slider showing both luxury and novelty gifts. Yes, you may have to take a second look at the image of the silver fish!
Right at the top, the menu separates your chocolaty needs, with gifts, offers, and a "free from…" section. There's even a clear possibility to order in for a specific date, making it very easy to plan ahead for your needs. Get ready for the birthday or anniversary months in advance. There are downsides to the site, though. The first is the small search bar. There is more of an encouragement to go through the different options rather than searching for something specifically.
The second issue is all the text at the very bottom. It's very difficult to see it all on a normal screen, which could make mobile viewing even harder. To make it harder, this is where you'll find the contact information if you want to get in touch. If you can look past that, you will be able to find something for all your chocolate gifting needs.
Low cost delivery is available if you're willing to wait 3-5 days. Customers need to spend at least £200 to qualify for free delivery. Chocolate Trading do release regular discount codes, one of them normally offering free postage and packing when spending over £40.