Recently Expired Crew Clothing Vouchers & Deals
About Crew Clothing
Established in 1993, Crew Clothing originated from small roots in Salcombe, Devon. Today, they are a major brand selling casual clothing, polo and rugby shirts online, there's also a range of accessories for sale online. Snap up a free delivery code or voucher to save money on the entire range at crewclothing.co.uk. Find quality wardrobe essentials for men, women, girls and boys including tops, tees, trousers and shirts in timeless designs.
crewclothing.co.uk Review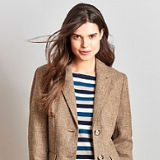 One thing that Crew Clothing does that many other companies don't is check the location of the visitors. From the start, a banner pops up with delivery costs to the particular country the website believes a person is shopping from. It leaves out questions of whether a company will ship internationally to them.
There is a clean and sophisticated appearance to the site, with the white background and navy blue writing. There's no need to worry about vision problems from users. The downside is that some of the images just don't sit right on the screen, making users need to scroll side to side—something that very few people like to do. Once you get past that problem, the images do show just what is available through the store to encourage people to shop and buy.
There are areas that this site could be improved to help gain more sales. The search bar needs to be bigger and it needs to be easier to contact a member of the team, The "contact us" link is mixed in with a lot of other links at the very bottom of the page. There's also very little about offers to encourage people to jump in and buy.
Free delivery is available on orders subject to a minimum spend of £5 at the time of writing. Click and collect from store is free on all orders, Next day delivery is available when ordered by 6pm on a workday if you want your order quick.