About Daniel Footwear
Established in 1993, Daniel Footwear is a retailer of fine footwear, handbags and accessories for men, women and children. They sell a large range of designer brands such as Australia, DKNY, Vivienne Westwood, Timberland, Ugg, Albano and more at prices that won't break the bank. There's also a selection of handbags and accessories and a range from the Daniel brand with free delivery available.
danielfootwear.com Reveiw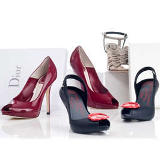 A popup is the first thing presented when visiting the site. While it is to sign up to the newsletter, it's not completely clear what customers gain from signing up. There is a mention of exclusive offers, but there's nothing immediate to gain. It's only when you start to click off the site that you learn about the 5% discount on your first order for signing up to the email list.
It's instantly clear the type of items available from the site, with a large banner for the latest offers and sales at the top. There are little windows of images showing the latest types of footwear to buy. The problem is the white text blends in too much with some of the images, so it is difficult to read. This could certainly be more user friendly. Getting in touch with a human definitely isn't a problem. The top banner has a direct link to the Customer Services and a phone number to call. There's also a link in the bottom right corner to access the live chat function.
Finding out about delivery options is reasonably easy, with the option for click and collect clear and the free deliveries on orders over £120. The sales are prominently displayed, but it would be better for the student discount option to have a clearer banner somewhere on the homepage instead of at the very bottom as a link.