About Dell
Dell is probably the most well known manufacturer of top class and quality laptop, desktop, notebook and PDA computers across the world. Established for more than 26 years they are trusted by business and domestic customers alike. Customers trust them to provide the latest technology solutions to help you do and achieve more, whether at home, work, school or anywhere in their world.
Dell.co.uk Review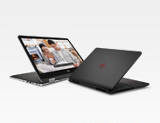 Dell's homepage is short and sweet, focusing on the most important aspects of the company. There's a very clear search bar without a menu, encouraging people to get straight into the types of things they need. Below that is a few images to take customers directly to certain sections of the online store. The top slider focuses on sales offers and the ability to tune into live stream covers on the products.
What about getting in touch? There's a slide-in popup at the side of the screen. It stays out of the way to allow for general browsing, but is prominent enough for customers to find when they really need it. You can also minimise it so it slides back in and stays well out of the way. The contact section does offer a live chat and phone number to help you find exactly what you need, when looking for certain specification computers.
It's not all about the computers and accessories either. There is a section for diagnostic and driver help, which keeps your computer going for longer. You can also get help with Windows 10, making the site suitable for all needs.