Petsathome.com Review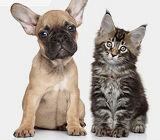 Pets at Home are a high profile retailer of all sorts of pet products with stores in most cities and towns across the UK. The online store look and branding is an extension of the superstores. There is an immediate focus on the ease of delivery and collection of pet products. The main menu sports the cost of delivery and what you need to spend to take advantage of free home delivery. If you live near a store then click and collect is available for free with no minimum spend.
The main menu is a list of pets or pet categories, drilling down reveals sub categories and brand types. The main feature is a promotion on pet health and exercise which is a breath of fresh air rather than a hard sell. The search help is located at the top near the login link. Scrolling the page reveals the main sales promotions, along with a feature about kid's workshops and pet advice. The pet advice page is full of tips and advice for all sorts of pets and includes help on health and behaviour for dogs.
The product detail pages offer a full description, nutritional advice when buying food, reviews and delivery information. Delivery options are chosen at the basket stage. Disappointingly there are no options to add a discount code or voucher at the basket stage. I can only assume that codes are to be added later in the checkout stage.  Delivery is a bit pricey charged at £4.95; free delivery is available for orders over £35 at the time of writing. Payment options include the usual credit and debit card or customers can use PayPal checkout.
Pets at Home manage a number of social media pages which are great for picking up hints, tips and user exclusive discounts. The contact page link is located right at the top of the page and includes a full address, contact telephone number and contact form for getting in touch online.