About Schuh
Only the very best Schuh voucher codes and deals find their way onto the deliverycode.co.uk website and we've got thousands of them just waiting to be used by our users. Check here to find the latest discounts and delivery deals for the latest footwear for men, women and kids that are directly communicated to us by the team at Schuh. We are in contact with our partners on a daily basis and only list offers that have been released, verified and endorsed by the retailer which ensures our users only get working free postage, and discount voucher deals.
Brand Shoes for all the Family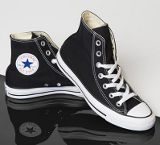 For some a pair of brand new shoes can be a real lift and a touch of therapy. Brand shoes are the focus at Schuh.co.uk from canvas leisure footwear to the classic Doctor Martin. I'm not going to list the brands one by one as the article will be full of boring lists, let's check out a select few to look at in more detail.
The highlight of the men's section is everyday trainer type footwear by the likes of Vans, New Balance and Converse. By sorting the footwear by price springs up a few surprises with the lowest priced Vans brand coming in at less that £20. The women's range is diverse with choices from funky high heels from misguided to the everyday casual from Converse that can be worn with almost anything from denim to a flowing dress, the choice is yours.
Kids' aren't forgotten either with enough choice here to keep the largest families in footwear for decades. I love the little cute pink numbers from Nike for the girly girl. For the rugged lads there are lots of choices from Nike and Adidas, even the latest designs can be found at in the sale with massive reductions. Delivery doesn't have to cost either with free postage and packing options available with a small minimum spend. If you're like me then you will like the handy size guide for converting sizes between UK, EU and US sizes that can be searched by brand. There's one for the kid's as well.