Toys R Us Review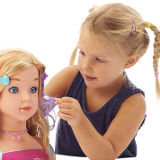 Toys "R" Us is a leading provider of toys, technology and other entertainment products. Toys "R" Us opened in 1985, with five stores spread across the UK. It now operates over 1500 stores worldwide, with rapidly growing success across the UK. Toys "R" Us is open 7 days a week, providing convenient shopping opportunities to buyers as well as providing an outstanding level of customer service. You will also find that Toys "R" Us has won the Tommy Parent Friendly Award 9 times, as it continues to thrive under the support of parents, children and business associates.
The Toys "R" Us website is very easy to navigate, which in turn makes shopping easier than ever. They have a range of baby toys as well as electronics and other entertainment products. They also have a Babies "R" Us store, which is fully geared to meet the needs of children and new parents. With furniture sets, bedding and strollers available, parents can get everything they need from one convenient location. Babies "R" Us is also available on the main Toys "R" Us website, with a separate tab so parents can find what they need without spending hours typing in various search terms.
You will also find that you can search by category by highlighting the various tabs, from outdoor and sports to technology and gadgets and even kids room and learning toys. With a huge range of products available and thousands of products in store, it really is no wonder that Toys "R" Us continue to be one of the largest toy providers in the world. Parents and users can also browse by age group, a unique feature that makes shopping for a young child fast and easy without time consuming navigation through each individual tab.
How To Redeem A Voucher On The Toys R Us Website
If you have a coupon, you'll find a barcode somewhere on the slip. If you received your coupon via email, then you will have a unique code that can be entered at the checkout. You should remember that these coupons are case sensitive so make sure that you type it in exactly how it appears on your coupon or on your email. You should also remember not to include any spaces when typing in your code.
Coupons Are Applied At The Checkout
Expiry Dates Apply To All Coupons
No Cash Returns Are Available on Coupon Codes
Minimum Spends May Apply
Toys "R" Us on Social Media
Toys "R" Us are always posting deals and discounts on social media, including Facebook, Twitter and various other social media sites. You'll find deals ranging from money off to discounts on products and many other savings that will really benefit you as a customer. Toys "R" Us are very active on their social media accounts, and they are continually posting new updates regarding their latest sales so you can always be sure to find a great deal when you follow them on social media. You may also get access to deals and discounts that are not available on the main website, such as voucher codes and coupons, a great way to save money.
Latest Video
Toys R Us UK Delivery and Returns
Toys "R" Us have many delivery options available, from Next Day delivery to Named Day delivery and even Saturday delivery so there really are plenty of options to choose from. If you want Next Day delivery, then you'll need to place your order before 4pm. This excludes Sundays, however as a general service, they aim to deliver within 4 working days of placing your order.
When your item is despatched, you'll receive an email with a tracking number so you can always see whereabouts your package is as well as finding a more accurate time of delivery.
Toys "R" Us use Hermes, Nightfreight, DPD, UPS & Royal Mail to deliver their packages, and if your item is missing, you can contact their team for help. If your item is faulty however, you'll need to contact the support team with your authorisation code.
Toys R Us UK Customer Support
If you need to contact Toys "R" Us UK about an order or any related query, then follow the Contact Us link. Here you'll find everything you need to resolve your issue as fast as possible, and their support team can also be contacted at ukcustomerservices@toysrus.com. If you want to make an enquiry about the Gold Card service, you can reach them at goldcard@toysrus.co.uk or by phone at 0845 367 7878. Their offices are open between 8:30am to 5:30pm Monday to Friday, so you can always get in touch with their support team.
Toys R Us Shopping on the Move
Do you want to shop online at Toys "R" Us? Toys "R" Us have an app which allows you to build a wish list for your child, along with all the prices and promotions associated with them.
You can make a list for each child, while also saving money by planning out your gifts. This makes shopping on the move stress free and easy to do, and you can also shop by category which is great if you know what type of gift you want. You should note that there is also a Babies R Us app available if you are purchasing for younger children, with the same features also available.