Vintagefootballshirts.com Review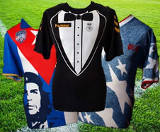 Sometimes you just want a football shirt from the past. You may want the 1998 Manchester United shirts when David Beckham used to play or the 1996 Germany Home shirts from the Euro Cup. Vintage Football Shirts has more than you could ever image, at an affordable price.
The homepage makes it clear what is on offer on the site. As well as photos of a range of options, the site also has a full description. These aren't replicas or fake shirts. All are real ones that were once available in the local stores. And it's not just about the shirts, but the training and goalie gear.
It's very easy to find what you're looking for. The menu offers a product dropdown section, which splits up all the different football championships to help it make it easier. Or you can just opt for the search function to find the team or year that you'd prefer. If you're still having a problem, there's a phone number right at the top of the screen to call. It couldn't be easier to get your vintage football shirt.
Unfortunately I can't find any free delivery options on the help page, at the time of writing delivery starts at £3.95 for a 1-3 day service. Next day delivery is available for an additional charge. Returns have to be sent back at the customer's expense if unwanted.