Interflora.com Review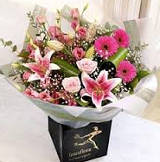 A first glance at the name and you assume flowers. That's just what you get when you visit the Interflora website. Images are laid out clearly to show the current offers and top picks from those browsing the site.
As you browse, you will get a pop-up appear to invite you to join the newsletter. Those who sign up will get exclusive discounts on a regular basis, but it's very easy to close the pop-up down if you're not interested. It's not all about flowers, though. It takes a while of browsing to realise that there are hampers and other gifts, too. This could be displayed a little more clearly.
When it comes to deliveries and Customer Service, you do need to look carefully. The website has been designed for smaller screens and doesn't automatically open up wider when on a larger computer screen. Delivery is next day if ordered by 3pm, and there is international delivery available. The site also makes a point of sharing that Sunday delivery is available for when you need it. Customer Support is available by phone, with the number displayed at the top clearly.