Bedtime Products for a Good Night's Sleep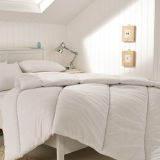 50% of a good night's sleep is probably down to your duvet and pillow plus something soft underneath. The pillow choice is massive with every filling from goose feather to memory foam. Using a cover or protector can extend the life of your pillow and make them easier to clean. The type of pillow depends very much on personal preference, it may depend on whether you have an allergy or require a little more support for a back or neck injury or medical problem.
Until recent times it was the norm to have a sheet and blanket arrangement on beds. Today that has largely disappeared in preference for comfortable and soft duvets. Not only do duvets provide extra warmth but can help to regulate temperature. Once again duvet use can help those suffering from allergy and the warmth level can be chosen depending on the TOG level of the product. No more adding or taking away blankets for a good night's sleep.
On the underside extra warmth and comfort can be gained using a mattress topper. Toppers can be great to help keep the heat from escaping through the mattress, great for sleeping in colder rooms or holiday caravan. Toppers can provide extra comfort in any bed for a good night's sleep. Another winter wonder is the electric blanket which has been around for many years and still widely used. They are similar to a topper but electrically heated with over temperature sensors for safety. This makes them safe to use throughout the night with rapid warm up features. Shopping for all these products here at Sleepy People will help you save time and money with free standard delivery and returns on all orders.